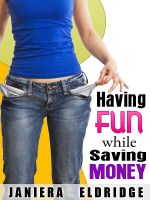 Smashwords, November 2011
This is a great little ebook, filled with practical advice on how to save money without signing on to a program of Virtuous Self-Deprivation. We all want to have fun and enjoy ourselves, even, or perhaps especially, in these tough economic times when just paying for necessities is tougher than ever.
Having Fun While Saving Money
is mainly aimed at young people, still in college or raising young families. There are lots of tips for inexpensively throwing parties, organizing outings with your kids or with your friends without blowing the budget. She covers everything from clever, fun craft projects to making good use of resources like Groupon or LivingSocial. Just when I (librarian that I am) was starting to say, "What about that wonderful resource, your public library?" she starts talking about all the great things available at the public library--books of course, but also museum tickets, computer access, music, and DVDs.
The last chapter covers four rewards programs she has tested herself. The one that grabbed me was AMC Theaters' Stubbs program--for $12 a year, you get free upgrades on concession purchases (order a small popcorn, upgrade to medium), and every $100 you spend earns you $5 in rewards money. If you're a regular movie-goer it's a great deal. BUT, when I got to an AMC Theater, it was an even better deal! They are, for a limited time, selling Stubbs memberships for $6! If you like movies, it just can't be beat!.
That's just a small sample of the great information Eldridge offers in this book, and the price of the book can't be beat, either: just $0.99 on Smashwords. Go get it!
Highly recommended.