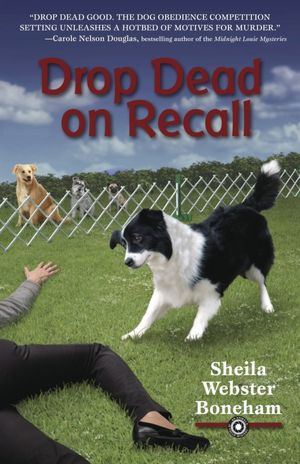 Midnight Ink, ISBN 9780738733067, October 2012
This is a really fun mystery, set in the AKC dog world--in this case, the dog obedience circuit.It captures in a fun way both the nutty obsessiveness and the genuine love of animals that so often characterize the competitive dog world.
Janet McPhail is a professional photographer who competes, for fun, in dog obedience with her Aussie (Australian shepherd), Jay. On one fine, sunny morning, they're at a competition, and a far more serious competitor, Abigail Dorn, falls to the ground, in obvious distress--and dies in the ambulance on the way to the hospital. As one of the first to Abigail's side, along with her husband Greg Dorn, and the person who takes home her dog, Pip, and cleans up the food at the Dorns' crate set-up, Janet becomes at least officially a "person of interest" for the police, when they determine that Abigail was poisoned.
Of course Janet can't keep from poking around, talking to people, asking questions. There are a lot of potential suspects, because Abigail Dorn had a rather abrasive manner and didn't suffer fools gladly, but the more she learns about her, the more Janet regrets that she didn't know the woman better. As she learns about natural plant poisons from her eccentric neighbor, Goldie Sunshine, gets to know major hunk Tom Saunders--who turns out to be Abigail's cousin and a possible suspect, and wonders over the unpredictably prickly behavior of her friend Connie, all while trying to move her increasingly senile mother into a nursing home, Janet gets more and more alarmed. When the Dorns' dogs disappear and Jay is threatened, she's terrified--and still not ready to back off.
This is a nicely done mystery, with very real dogs and dog people, and I'm looking forward to more.
Becki's Rule Note: No animals die in the course of this book.
Recommended.
I received a free electronic galley from the publisher via
NetGalley
.